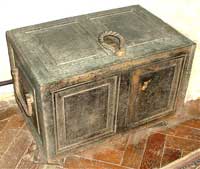 Among the documents recently rediscovered in St Nicholas. Church was the 'Account Book of the Overseers of the Poor of the Parish of Salthouse, 1792-1810'.

These eighteen years were a period of great difficulty for the country in general and for the poor in particular. Not only was there virtually continuous war with France but, in the 1790s, there was also a succession of poor harvests. The shortage of food and the resulting increase in prices meant problems for paupers and all poor people, whether existing on subsistence agriculture or on the paltry wage of the agricultural labourer. The number depending on subsistence farming was decreasing as a consequence of the enclosure of the old open fields and of much common land. New systems of farming led to a reduction in the numbers needed to work a given area of land, and at the same time to a decline in wages. This depression in wages became such an acute problem that from the mid 1790s help had to be given not only to the unemployed and unemployable poor, but also to many people who, although they were in employment, were earning less than a subsistence wage.
This supplementation of the workers' earnings, by the parish, resulted not surprisingly in the employers having no need to pay a proper living wage and being content to leave the parish to pick up the shortfall. Wages became further depressed and the incentive to work diminished.