Alice Dix helped her uncle Herbert Pigott with deliveries of bread


James Dix Master Mariner
c. 1920
Left to right: Herbert Pigott the baker (who married Amelia Hancock), Alice Dix his neice, Charlotte Dix his sister, and Edie Dix his neice. They once lived in the cottage behind the Bake House.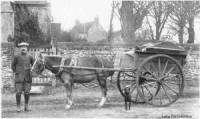 Herbert Pigott with his bake
cart delivering as far away as Weybourne (it is Weybourne Priory Church behind him).
Click on the picture to see it
full size, but it is 45KB so be prepared to wait!
Sammy Dix, Charlotte's son, in the pub rolling a cigarette c.1947. Behind him, on the left, is Herbert Graveling, Charlotte's grandson, who was killed in the Korean war in 1952. He is talking to Terry Holman.