A member of the public, writing to the paper in 1922, says:
"The familiar square-built stone house standing alone on the beach at Salthouse has been responsible for numerous questions as to its origin, and so many enquiries have been made regarding its association with smugglers and such romantic enterprises that one is sorry to destroy the illusion"
He then goes on to tell its 'commonplace history' as he calls it, but the story seems far from commonplace: it began in 1840 when the lord of the manor - a local man who had made a fortune in London as a property developer, built himself a castle on a mound of land called 'Great Eye' right on the beach.
____________________________________________

According to Florence Radley of Salthouse,
when she was 80:



"I shouldn't say this perhaps, but -
Randall was very fond of women - that's what that house was built for! It had a big door either end, and he used to drive up in his carriage and round into the house and right through the house with his coach and horses.
"The coach used to stop in the house till he was ready to go then, you see, he had a bridge built on the beach side of the house connecting to a big expanse of grass where the village cows used to go. The sea has covered it over now, but at that time it was big [old maps show it as 'Flat Eye'] and he could drive his horses onto it, sweep round and come back."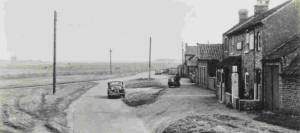 the west end of Salthouse village c.1935-40, 'post office corner' .
On the sky-line extreme left, 'Great Eye' and the Rocket House
can just be seen. Today they lie under the sea.