NB to make your comment
Note:
21 APRIL
Quote: PLA/2008o453

another planning application in Cross Street
(scroll down to see Peter King's on the spot comments below)
'The Seven Whistlers',
one of the oldest historical houses in Salthouse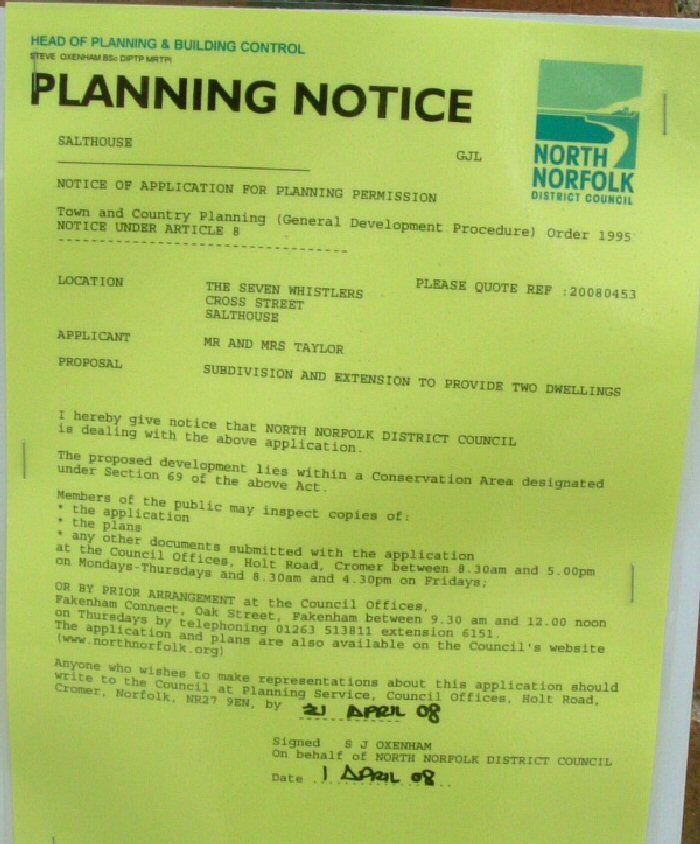 Peter King of Manor Cottage, situated just South of the Seven Whistlers property, says:
"The restoration at The Seven Whistlers has started this week and it is immediately evident from the poor condition of the roof just how much work requires to be undertaken at the property.
Although I have not yet had the opportunity to meet the new owners, I have spoken at some length to the builder and I detail my understanding as follows. He assures me that the owners' intentions are to restore the 1722 property as closely as possible to its original condition. The planning application sets out the materials to be used on the site and they would seem to be sympathetic to the very old building and the much later extension. The 'Well' and the vast majority of the cobbled internal wall will be retained and hopefully restored.
The application for enlargement of the 1986 addition to The Seven Whistlers, together with its sub-division from the original building to make two separate properties, are at the heart of the present planning application. The builder acknowledges that some detail is missing from the current plan (e.g. proposed enlarged garage dimensions) but advises that the owners would like to gain in principle approval and will respond to any queries which arise. The case officer for NNDC is Gary Linder (direct dial 01263 516152). From my discussion with him it would seem that:
· There may be concerns regarding privacy issues between the two separated dwellings as they immediately overlook each other. This could give rise to problems at a future date if the properties had separate freeholds.
· The Environment Agency 'red line' (high flood risk) crosses the property diagonally and may not be as large an issue here as the Eastgate Cottage application. However the decision will be made by the Environment Agency.
· He does not believe there are any privacy issues in relation to Manor Cottage. (On the basis of the plans and information given to me so far it is difficult to disagree).
A few further points.
· I believe that Eastgate Cottage was refused permission to sub-divide the property at one time. Whether approval at Seven Whistlers would re-open the Eastgate debate once more is a question that needs to be answered.
· With the proposal for a second property and the increased occupancy this will bring, presumably the Environment Agency will address the issue of safe evacuation from the site, particularly as the exit is directly opposite Eastgate Cottage. Highways will no doubt also examine this matter from their perspective.
· NNDC did advise me that the original application received by them was for five properties on the site, the sub-division plus three new dwellings. The builder assures me that such an application was not put forward by the owners.

Please note the closing date for objections to the planning application is Monday, April 21st"

Peter King Manor Cottage Cross Street Salthouse