M

y father (Henry) was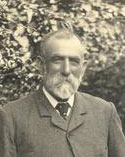 the eldest son of a family of sixteen, and his parents were of humble descent. As is only natural with such a family, they suffered a great deal of privation. Some characteristics of my father must now be related. He had no schooling during his boyhood, although in later life he taught himself to read. He was a local preacher of the Methodist chapel, often very much in demand. He had a nice suave manner, enabling him to mix with rich and poor alike. Mother (Mary) came from the same humble stock, she had to support her parents as her father was an invalid.
My parents kept ducks, and I have known dealers to wait all night if there was any hatching in progress. They would give a shilling for each duckling — a good price that — and their object was quick profit. These ducklings were fattened up by forced feeding and would be killed in six weeks, which is why they fetched such a good price.
It was my job on Saturdays, when there was no school to attend, to go on the farm where my father was employed. I had to follow the plough picking up worms for the ducks that did not get sold, as it was only those that came early in the season that attracted dealers. My father always had livestock of his own even when working for a master. He was what is known as a 'Common-Righter', which meant he had the right to graze a certain number of stock on the heath.

LOST ON THE HEATH
This heath had an area of about one hundred acres, mainly furze, but quite a lot of grass.
My eldest brother would by this time be out at work, so it became my job during the winter months to take the old pony my father had to the heath and also to bring it back at night. On one occasion I could not find the old pony at all, snow was on the ground and it was also a bit foggy, so that it got dark sooner than usual. I was then very nervous in the dark and so, on returning from my search, I found another boy who had a pony and a cart. He had been using the cart to collect a load of firewood from the heath. I kept with him rather than face the journey home alone. This would be about five in the afternoon but he got in a muddle so the time passed away very quickly. Presently we started for home and came by a roundabout way, experiencing more trouble as the load of wood kept slipping. When I eventually arrived home I walked indoors quite unconcerned, only to find that everyone was greatly put out by my non-appearance. My father was out looking for me, and did not return until about half an hour later, this would be about 9 pm. He was absolutely overcome, and I think tears were general as we all thought that he was going to die. He had called out several of the men to go and look for me. They had been shouting my name and wondering what had happened to me, thinking doubtless that I had fallen and injured myself in some lonely spot where I might lay for hours untraced. No doubt it also occurred to them that I might have been captured by some gypsy band, who were frequently on the common.
next page