Tom Woodhouse and Jakey Matthews, team men, outside Ivy Hall when Horace Foulger was the farming occupant

The Hall from the road a few years later, presumably when the Ross family were the occupants.
When the Hall Farm land was given over to be converted into smallholdings for the Salthouse men returning from World War I, the Hall itself was put up for sale. It was bought by Frederick Champion de Crespigny and his wife Mabel, whose brother, Commander Frank Stagg, frequently came to stay at the Hall and apparently fell in love with Salthouse. He devoted himself to many years of researching and writing a history of the village from Domesday up until 1840. In 2003 the Salthouse History Group was able to publish his manuscript in a grand collection of Salthouse memorabilia.
After Commander Frederick de Crespigny left Salthouse, the Hall was bought by a family from Sheffield called Hawley who ran it for a time as a Guest House.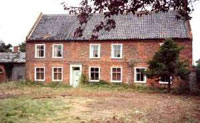 After the Hawleys left, the Hall stood empty and forlorn for several years.