From Alison Jarvis:
Samuel Perfrement is my great great great grandfather, He moved some 30 miles away from Dereham where his family lived and settled on the coast at Salthouse.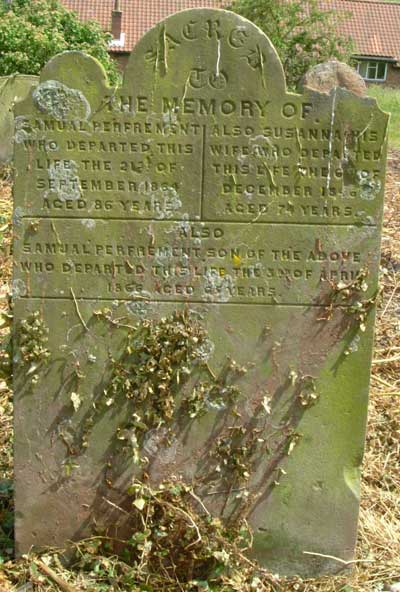 He married Susannah Pane (or Payne) there on 7th May 1799, and both are recorded as being 'of the parish'.

Samuel and Susannah (sometimes 'Susan') had 5 children, as shown above. However, their fourth child, the first 'Sarah Ann' lived for only 2 weeks. We know from the parish registers that at the time of the second Sarah Anne's baptism on 8th March


1814, Samuel was a labourer (as he was too on later census entries). This implies limitations of income but not necessarily of generosity, as the following story shows.

In 1815, 2 Salthouse men were arrested for carting wreckage off the beach and were taken to Norwich County Gaol to await trial. The men wrote of their plight to the villagers: (see:The Poor Prisoner's petition) Many contributed money in response to their plea; Samuel Perfrement is listed as donating 2 shillings to their cause.

in the Salthouse census for 1841, the family is listed as follows:
1841 – Purdy Street, Salthouse

Name

Position, marital status and age

Birthplace

Occupation

Samuel Perfrement

Not given

60

Norfolk

Ag labourer

Susan Perfrement

Not given

65

Norfolk

Samuel Perfrement

Not given

40

Norfolk

Ag labourer

Sarah Ann Perfrement

Not given

25

Norfolk

Maria Loynes

Not given

30

Norfolk

Aurora Loynes

Not given

7

Norfolk

Samuel Loynes

Not given

5

Norfolk
Although recorded as separate households on the 1841 census, the Perfrements and Loynes occupied the same dwelling and in fact, Maria was almost certainly Samuel and Susannah's daughter (born 20th March, 1808) who had married a James Loynes from Holt in 1833 (the marriage taking place on 19th February in Salthouse).

By 1851, the family living in Purdy Street is much reduced. Sarah Ann had married John Dewing Jarvis in 1843

Susannah had died in 1846 (on 6th December; the death was registered at Erpingham); and Maria had died in 1850. The two Samuels are still there however, and are still working as agricultural labourers (albeit that Samuel senior is 74 years old by this time). Father and son now share their home with the 27 year old Philip Perfrement (their nephew/cousin) and a lodger by the name of William Gaffer. Philip and William were also agricultural labourers.

The pairing of Samuel and Samuel persists in 1861, when they again share their home (now on Cley Road) with Aurora Loynes, by this stage a 27 year old woman. Aurora is unmarried and is a dressmaker.

The child of Samuel and Susannah who does not appear on any of the 'family' census entries (aside from the 'first Sarah Ann' who lived for only a couple of weeks) is Phebe. She does, however, appear as a witness to at least one of her sibling's weddings, probably two. Phebe Perfrement was present when Maria tied the knot with James Loynes, and Phebe Parlett was present when the 'second Sarah Ann' tied the knot with John Dewing Jarvis. The link is confirmed by the 1851 census, where Saalthouse entries include a Phebe Parlett (mariner's wife, aged 47 years) who is sharing her home with Aurora Loynes (seamstress, aged 17 years).

In the 1861 census Samuel Perfrement aged 83, is widowed and living in the Cley road with his unmarried son Samuel aged 60, born in Salthouse and his unmarried granddaughter Aurora aged 27, a dressmaker, born in Holt


Samuel died on 21st September 1864, aged 86 years.

He and Susannah are buried together in the grounds of St Nicholas Church at Salthouse, in a plot also shared with their son Samuel who died in 1866 Their shared gravestone is pictured here.