My mother was a Pigott, and my grandmother, and they lived at Kelling, [or was it Weybourne?]the Pigotts did, at that time and my mother's grandfather was a shoe maker. Grandmother High was very poor. Grandfather died when he was fifty, he had cancer on the lip. He walked to Norwich Hospital and he was operated on, but in doing it they broke his jaw by mistake.That wouldn't happen now. They lived in that house where Rodney used to live. Oh, they were poor! My father never went to school. Well, he went one day, and Johnson went there and got him out of school to go and keep some hens in a field up on the heath. He was six, and he was terrified, and he came and sat on the stile at the top there, so he could see the houses.
My grandfather earned eight shillings a week and Uncle Harry earned four. Flour was four shillings a stone, and all my mother could make was bread. They used to give the bullocks molasses to treat them, and the boys used to come up and get some of that to eat with their bread.
There was an old chap kept a shop up Cross Street, an old man called Dew, and when Father was going up the road, he used to say 'Come here, boy, and let's see what your mother bring you for your dinner,' and he'd put a bit of cheese in for him. And they'd get a turnip, and scoop that out and put blackberries in when the blackberries were ripe and they'd eat that with the bread. My father never did forget the first taste he had of goose! He worked for Johnsons in the Manor House and they had maids and one of them gave him the drum stick of a goose. He got in the stable and ate it and ooh!—he said he never tasted anything like it.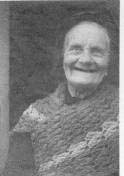 There was an old lady who lived next door in Sunnycroft, she was a widow and she paid £4 a year rent for her cottage. I think her husband had been lost at sea. Her only income was 2/6 a week allowed her from the Parish, and we used to give her some milk and butter. I remember taking in the bread and milk, and seeing her sitting up in bed in a white night-dress and bonnet. She wore a woollen cross-over, they didn't have cardigans in those days.
All our family was Chapel. My father worked for Sir Alfred Jodrell at Bayfield, and my eldest brother Dick when he left school went to work there with him. Well, there was an election going on and Sir Alfred Jodrell asked Father what he voted, and he told him he was a Radical and he sacked him straight away. And he went round and told all the farmers not to employ that feller High if he had the cheek to tell him he was Radical!

My father was out of work two years. My mother took in sewing and washing. You know, for her principles she was ever so strong my mother was. Then Johnsons owned this farm where Don [Don High, son of Florrence's cousin Haddon] farms now, and Johnson, he was squiring the village. Mrs Johnson was my grandfather's sister, she was a pretty woman and the Squire married her. He was only thirty-one when he died—he drank himself to death—and he left the farm to her, and she cut the farm up into smallholdings. She lent money to Uncle Harry, that's Harry Dawson's grandfather, and Uncle Ernest, that's Haddon's father, and another man, Robert Pigott, and she wouldn't lend my father money because he wouldn't borrow, he never would borrow. Father just had one field, he managed it on his own, he had eleven acres, but the others each had more, she cut it all up into smallholdings. Then my father he went to work for my Uncle Ernest, who never would work on the land, he used to be on these different boards, and Father used to work for him and then go and do his own field. Oh, he did work hard.Later, the council bought the smallholdings, but before then, there were several different farmers who had them. I can remember my uncle and aunt—my father's sister, Aunt Susan. They went to East Rudham. He was steward there, and I can remember we used to go and stay, and I was there when the Dutchman came and taught them how to till the land for sugar beet when they first started to grow it. [Was that before the First World War?] Oh yes! I was only a little girl.

During the First World War, we made this little tea shop, you know. Of course there were no end of soldiers in the village then, more than there was in the Second War.
There was a camp over the wall, where the houses are now [the Cross Street council houses] and my sister and I were at home you see, Margaret was teaching at Kelling and Doris was a little girl at home here with us. I used to do all the cooking, used to have a ten-stone bag of flour and I used to be cooking all night!
Mother and Father used to get up about five o'clock in the morning, getting ready for the soldiers coming in for an early morning cup of tea and then as soon as they were off duty they were in here again. We would get to bed about 3 o'clock in the morning, and get up again about half past nine or ten and start cooking again! I know mother bought great big trays of plums and I made forty plum tarts. We had an oven in this room—a Dutch oven, you know, an oven in the wall. I could cook six at a time and I'd made forty, and my sister then sold them all at dinner time.
We used to charge them a penny a piece, 6d for a tart. I used to make a great big milk-pan full of gingerbread mixture, and then cook them in tins and sell them a penny each, and a penny a cup of tea or cocoa—never had coffee, no—cocoa and tea.

One night I made this great big pan of gingerbread—of course they used to go to Sheringham, I forgot to tell you that bit—and I'd made all this gingerbread and it wouldn't rise! But the soldiers kept buying them and they said they taste all right. They kept eating them. My mother had a sitting-room upstairs and when she got tired she went up there to rest a bit, when she came down she said 'Do you know what you've done? You've put boracic powder in, instead of bicarbonate of soda!' My father nearly died, I don't think he slept all night! At any rate, when we looked out in the morning we saw the men all about, so we said, 'That's all right!' Do you know they never had any money till then. My sister and I, we worked so hard and saved a bit of money for Mother and Father.

They used to send drafts of men away. They marched to Holt station, but before they left they used to stop outside here and shout, 'Three cheers for the Wad Shop!'
After Father left off working, Uncle Ernest's boys got big, Havelock and Haddon, and they worked on the farm and there was Clifford the eldest and they didn't need my father. Somehow or other he managed to buy a pony, I don't know how they managed it, Mother and Father, and they went to Sheringham with the chickens and rabbits and eggs and that sort of thing. And I always remember Mother telling us when she was coming out of Sheringham, she counted what money she'd taken and it was twenty shillings. Those visits were twice a week, we used to go round buying eggs and garden produce to take to Sheringham. My mother had some big houses in Sheringham, good customers, and she'd get an order, and she'd say, 'You got to go to Sheringham with a chicken' and we'd get on the bike and we'd go back to Sheringham.

Mum was over 46 when she had my youngest sister. Fancy over twenty years having children, what a life. We were seven girls and two boys. My older sister went away when Grandmother went. My mother's three sisters had gone to Middlesborough, and when my grandfather died my grandmother and her eldest daughter went to join them, and Father and Mother came to live up here.

Grandmother and Grandfather [Gabriel and Elizabeth Pigott] lived in this house. They came here in 1850. Before that it was the village almshouse: there was one big room with a fire-place at either end, each with its own door, and there was an old couple at this end and an old couple at that end. Well then, when Grandfather and Grandmother got married, Mrs Johnson—or 'Aunt Johnson' they called her—had it rebuilt for Grandmother and Grandfather. When Father and Mother came here there was still just the two rooms. Well as we got bigger that was not enough bedrooms. I always remember we had two beds in this room, Dick and Edmund slept in the same bedroom as us! Between the house and Church Lane was just a shed, a lean-to, and they asked Aunt Johnson if she'd have the walls raised up and make two extra rooms. We've been here ever since. Nearly ninety years I've lived here. [Now Pear Tree Cottage]
Florence has credited her great aunt, 'Aunt Johnson', with the buying and converting of the original almshouse, but Sarah Ann Pigott didn't marry William Johnson until 1869. When the Church sold the almshouse in 1849 it may have been William's father, John Francis Johnson, who bought it and subsequently leased it to Florence's grandfather Gabriel Pigott and his wife. In Florence's time, when she and her brothers and sisters were all getting too big to sleep in one room, 'Aunt Johnson' was well established at the Manor, and had the means to do the alteration for her brother Gabriel's daughter and for her family.