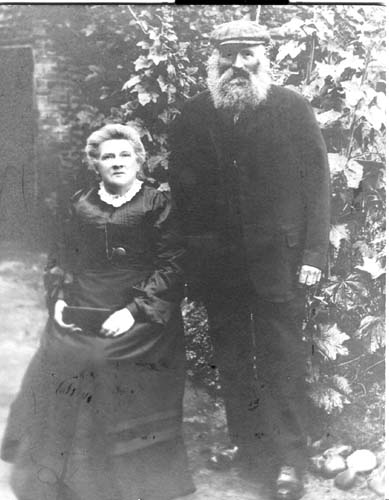 John Pigott, born September 1841 in Salthouse, with his wife Mary Ann (née Duffield). They were married on 25 April 1866 in the United Methodist Chapel in Cley. His occupation was Bird keeper and agricultural labourer.

Above: According to Nanette Sanderson who has a copy of
this photo handed down to her by her father, the ladies in
the photo are -on the right: Minnie Godfrey (nee Pigott), daughter of Mary Ann and John Pigott in the photo on the left, and wife of John Arthur Robert Godfrey. The lady on the left is her mother-in-law, Maria Godfrey (nee Floyd), the child's grandmother. The little boy in the pram is John Godfrey, Minnie's son and Nanette's father. Nanette thinks the picture was taken sometime around 1902 at Mulbarton near Norwich where John Charles and Maria Godfrey lived.

John Arthur Robert Godfrey who married Minnie Pigott, also Married her sister Rosa, but on this occasion it was a second
marriage for both. Rosa's oldest son (by her second marriage) Arthur Godfrey, died in New Zealand recently. He was 92.



They had four daughters:
Minnie b. 1869
Sarah Ann b. 1880
Rose (or Rosa May) b. 1877
and Amelia b.1882
Rose and Amelia Pigott
Amelia married David Parlett Jarvis, a widower who had moved back to Salthouse, his home village, from London with his two younger sons after his wife died.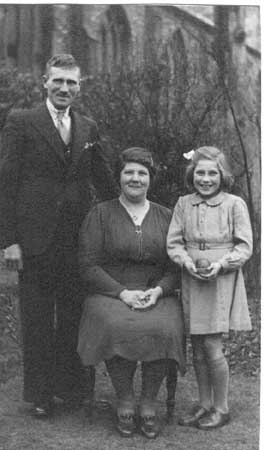 Here, on the left, is John Pigott's grandson (his daughter Rose's son) John William Pigott, b. 1899, with his wife Elsie May (née Felgate) and their daughter Margaret who , with her husband Eric Mason, has done great research on her father's family and supplied all these photos.


Margaret Mason, nee Pigott,
passed away peacefully Jan 22 2006, after fighting cancer for many years.
She was a courageous woman.