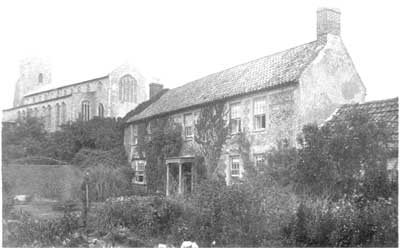 The first thing I heard about the Manor was a story of romance! Mr Johnson, I was told, a landowner, fell in love with and married a village girl from the Pigott family, and they lived in the Manor House. My grandfather, Henry High, either through birth or work, must have been connected to her,* as my mother referred to her as 'Aunt Johnson'. But Florrie, Mother's cousin [Jim Radley's mother] whose grandmother was a Pigott, for reasons known only to herself refused to call Mrs Johnson this, and was barred from the Manor House!
When the Johnsons died, my grandfather Henry and grandmother Mary (always called Polly), and Granny's mother, moved into the house. My mother, having completed her training as a dress-maker, returned to Salthouse to live with her parents. She and my father, a soldier in
the First World War, married in 1915, and when he was
invalided out of the army they took over the Manor House, using it as a Guest House.
During the war, officers were billeted with them, and Captain Gunton's wife and daughter joined him there. They continued to return for holidays for many years.
At this time the house consisted of a long low bedroom (servants' quarters perhaps?), six bedrooms, a kitchen, a pantry and two sculleries, hall, back stairs, dining room, drawing room, large hall and front stairs, study and a cellar. The yard contained a number of buildings, including wash-house and copper, stables (our Black Bess was stabled there), coach-house and workshops. Water was obtained from a pump in the yard and heated in the copper, or by the small tank part of the kitchen range. There were two earth closets, one at the front of the house and one at the back. Each contained two seats for adults, and one small seat for children—a family affair! Candles and oil lamps provided the lighting.