Alex Vines was one of those who took part in an archaeological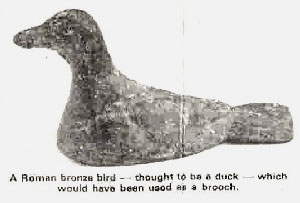 dig at Salthouse in Oct 1980. It was he who made the most valuable find of all, which was a bronze bird thought to be a duck, part of a Roman brooch. His report, reproduced below, was made while he was still a Gresham's schoolboy, and it was published in the Norfolk Research Committee's Bulletin in 1981.

Gramborough Hill, which belongs to the National Trust at Salthouse, lies on the coast road between Salthouse and Weybourne (OS 083444). As an archaeological site it is only of moderate importance, though it has produced some Mesolithic flints as well as a sherd from a Bronze Age food-vessel. But its chief significance lies in the Romano-British settlement which occupied the site from the early third century to the middle of the fourth. The site is a hill rising from the surrounding marsh to approximately the 30-metre contour; it is a natural look-out point, which on normal days gives clear views of the surrounding land as far as Warborough Hill, Stiffkey, Weybourne Hope and Muckleborough Hill. Today Gramborough Hill consists of rough grass pasture. Geologically there are gravels and sands with a thin layer of top soil. The Roman shore-line in the third century supposedly reached out into the sea another mile from today's coast line. It has been suggested that the hill was on the edge of an estuary, with a fort guarding the entrance. Roman remains were first noticed in 1852-88 when Roman bricks and pottery sherds were found by workmen. This was duly reported and was interpreted as a pottery kiln.

The site was visited in 1937 by Rainbird Clark, who noted its gradual destruction on the N E side and picked up some Romano-British sherds from the cliff falls. The present writer kept as continuous a watch as possible, from the beginning of 1977 to the beginning of 1980, and though activity was confined to rescue work, a good deal of information has been gathered on the character and history of the site.

The chief feature of the site is a small pit, about 100 cm in diameter and 90 cm deep, sunk in the natural gravel (below, and A1 on site plan right).