At 'A' Site, over at West Beckham, the perimeter fence was a smartly painted eight foot metal structure with sharp spikes at the top and stout gates to match. Here at Bard Hill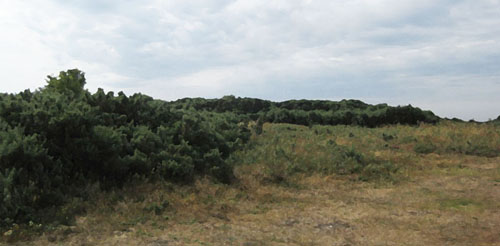 , the only sign of perimeter fence was rusting vestiges of a triple barbed-wire barrier which had no doubt once been complete during the war but was now almost gone. Weekend trippers used to drive to the edge of the hill, next to the aerial block, and spread themselves for picnics. We were instructed to inform them that they were trespassing on MOD property, and would they please leave. They usually replied that it looked like a derelict site to them, with no MOD notices, and continued their picnic. We didn't insist.
The site was not regarded as important enough to warrant a continuous Service Police presence, but an RAF presence was deemed necessary, which was provided by a radar operator living in the guardroom for twenty four hours midday to midday. You received rations for this duty, which consisted of one egg, a small quantity of margarine and cheese, three quarters of a sliced loaf, some loose tea and a tin of Carnation milk. A nine inch diameter electric free standing hotplate was provided, with kettle and teapot, together with an ancient radio for entertainment. There was a small, table top GPO PBX connected permanently to West Beckham and to the outside exchange.The driver of the Bedford that delivered you to site, removed a galvanised container, with your assistance, about twelve inches diameter and three feet high from a corner of the room, and loaded it onto the lorry after emptying out any water. He drove down to Salthouse and refilled with water in the backyard of a pub. Such was the water supply for RAF Bard Hill. If your duty was from midday Saturday to midday Sunday, you saw and spoke to nobody, as the station wasn't operational at the weekend; and under no circumstance, except dire emergency, did you use the PBX to call base.
This solitude gave you the opportunity to take stock of your surroundings in leisurely manner; commune with gulls and rabbits, and enjoy an elevated view of the coast from Blakeney Point to Weybourne. Weybourne at this time was an anti-aircraft gun training camp several miles to the South. On weekdays could be seen a light aircraft towing a large drogue about a mile out to sea, followed closely by bursting shells fired from radar-controlled guns. That the bursts always followed the drogue at a set distance must have been preset into the aiming system. I witnessed the occasion when this went badly wrong, and a shell burst between the drogue and the aircraft, severing the rope and buffeting the aircraft considerably. Ever after this, the rope was so long that it would take an observer some time to realise that the drogue was actually being towed; the aircraft was so far away.

Solitude also gave you time to reflect on what you had picked up about the history of the Bard Hill site. For instance, that part of the site resembling a scrap metal yard was due to a crashed Lancaster. It was returning from a bombing mission over Germany, and had been severely damaged by anti-aircraft gunfire. Losing height slowly, it was nevertheless expected to reach the nearest inland base. It had been instructed to switch on all lights, so that any Royal Observer post or radar station could pass its visual position to filter room. As it seemed to be on course to pass close to Bard Hill, the station was instructed to pass a plot at each turn of the aerial, and to mount a listening watch outside the block, so that a 'visual' could be passed if it was close enough. The aircraft approached Bard Hill, and those outside realised that it would pass directly overhead. They continued observing until it was obvious that it was too low to clear the rising ground that was Bard Hill. It first swept away the aerial, missing the Nissen huts by inches, and touched down about fifty yards beyond them. The ground below it descended into a narrow valley, so it was flying again until the other side of the valley rose beneath it. After bouncing again, it descended steeply into the wide valley below coming to rest in a copse on the far side of the road into Salthouse. There was no fire, but it was reported that none of the crew survived the shocks of touchdown at something over one hundred miles per hour.
A footnote to this 'history' was that on the anniversary of the crash, tradition demanded bread and a cup of tea be left on the threshold of one of the Nissen huts as refreshment for the crew. Failure to comply would result in nine separate knocking events on the guardroom door as the crew sought entry. I willingly complied when it was my turn, though I retrieved the crockery early the next morning before the watch arrived.