GROUTS OF SALTHOUSE ...Letter from Sue Gresham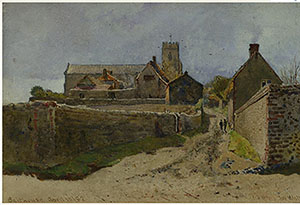 Dear Val
I have come across your name while doing voluntary research for the Blakeney Harbour Association – my reports so far are shown on their website here https://blakeneyharbourassociation.co.uk/harbour-history - and wonder if you might be able to help with a query (or two!) about my current project. I am researching a Master Mariner from Salthouse named Charles William Grout (1837-1897), who had the misfortune to lose five of his ships, and his extended family.
The Register of Electors for the years from 1868 to 1878 show Charles's father Peter Grout living in a "Copyhold house and land in Church Lane, Salthouse", although it is clear from the earlier Censuses that he and his wife were living in Church Lane (now Grout's Lane) well before that, since 1851 at least. In 1871, Charles Grout's parents, Peter and Hannah Grout, aged 57 and 56 respectively, were still living in Church Lane, Salthouse, three houses away from their daughter Charlotte, 31, and John Spence, 36, a Master Mariner. That suggests perhaps a "run" of four cottages.
I've discovered a lot of information so far but … I would love to know which of the houses/cottages in Church Lane the Grouts lived in, also why Church Lane was renamed. We live in Holt and had a walk along the coast yesterday and made a point of walking up Grout's Lane.
Charles William Grout, his wife, and eldest son are buried in Blakeney Churchyard. Charles "commissioned" an imposing Victorian villa to be built in Blakeney at Greencroft but he did not live long to enjoy it. The house, off Morston Road, has recently been redeveloped and other houses have been built on the site by Fleur Developments, the main house itself being named "Greencroft".
I would love, of course, to find is a photograph of Charles William Grout … I have one of one of his sons and of his grandson but not of the man himself.
In terms of genealogy, one of my husband's ancestors was Sir John Gresham, who founded Gresham's School in Holt, and we live on land which must have once been owned by Sir John. Sir John was related to the Tudor merchant Sir Thomas Gresham. We lived in Surrey before our move to Holt in 2011 and were similarly very close to Sir John's stately pile in Limpsfield, from where, it was said, he could ride to London without ever leaving his own land! Perhaps we should have chosen to live in the village Gresham!
You have such extensive local knowledge and I have fingers tightly crossed that you might be able to help with my Grout quest!
With best wishes
Sue
Sue Gresham